Oddly enough the Russian Tea Cake is neither Russian nor a cake nor does it have anything to do with tea. A very basic pastry made out of flour, water, butter, and ground nuts, the spherical sweet is traditionally made in the Christmas season. Traditionally in the United States, that is. The type of nut varies from family to family, recipe to recipe and doesn't matter. Another name, snowball cookies, comes from the way the individual confections are rolled in powdered sugar. Interestingly, the recipe can be more easily traced to Mexico than Europe, although some people speculate that it came through European missionaries and nuns.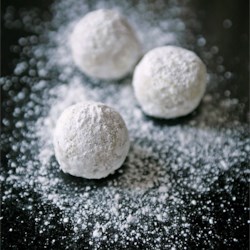 Ingredients:
recipe makes 3 dozen
1 cup butter
1 teaspoon vanilla extract
6 tablespoons confectioners' sugar
2 cups all-purpose flour
1 cup chopped walnuts
1/3 cup confectioners' sugar for decoration
Check All Add to Shopping List
Preheat oven to 350 degrees F (175 degrees C).
In a medium bowl, cream butter and vanilla until smooth. Combine the 6 tablespoons confectioners' sugar and flour; stir into the butter mixture until just blended. Mix in the chopped walnuts. Roll dough into 1 inch balls, and place them 2 inches apart on an ungreased cookie sheet.
Bake for 12 minutes in the preheated oven. When cool, roll in remaining confectioners' sugar. I also like to roll mine in the sugar a second time.