Sergei Vassilievich Rachmaninoff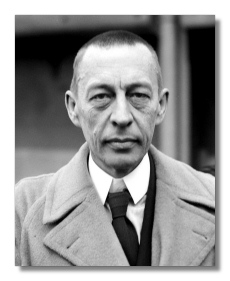 Born on (1 April, 1873 - 28 March 1943) in Semyonova Russia to an aristocratic family. Both Rachmaninoff's parents were amateur pianists who gave Sergei his first lessons when he was young. However, after Rachmaninoff's talents came to light, it was his maternal grandfather Arkady Alexandrovich who hired Anna Ornatskaya a musician from Saint Petersburg to give Rachmaninoff personal lessons in 1882.
Ornatskaya taught Rachmaninoff for three years until the Rachmaninoff family had financial issues said to be caused by gambling debts and had to sell 4 of their 5 estates. Upon returning to her home Ornatskaya arranged for Rachmaninoff to attend the Saint Petersburg Conservatory which he started at the age of 10. However soon after moving to Saint Petersburg Rachmaninoff's sister Sofia died in a diphtheria outbreak, at this same time Rachmaninoff's parents separated. This of course left Sergei in an academic disaster causing him to fail all of his exams.
At this point the faculty of the conservatory advised Rachmaninoff's mother to ship off her 12 year old son to study at the conservatory in Moscow. It was here where Sergei's musical career was put back on track due to Nikolai Zverev's strict work ethics. In fact Sergei thrived in Moscow not only was he getting piano lessons from Nikolai Zverev he was also getting them from Alexander Ziloti who was a former student of Franz Liszt.
In Moscow he was also being taught music theory and composition by names such as Anton Arensky and Sergei Tanyev. Quickly becoming their best and most valued student Rachmaninoff finished his piano studies a year early, and quickly finished his composition course in a single year by writing the one-act opera Aleko.
When Rachmaninoff first moved to Moscow his maternal grandmother frequently took Sergei to Russian Orthodox services, where he was first introduced to the liturgical chants and the big church bells of the city both of which have a huge influence on Rachmaninoff's compositions.
One composition you can clearly hear the influence of the big bells of the Moscow is in his Prelude in C# minor Op.3 No.2 which is one of his most popular/famous compositions. It also has been called "the bells of Moscow" and if you listen to the motif in the A section of the piece you can hear the bells ringing in the distance, and near the end you can hear them slowly fade away into the air.
Please Enjoy My Horrible Playing of Rachmaninoff's Prelude in C# minor
Thanks for reading and Listening!